MEET THE HEMLOCK HILL RV SERVICE DEPARTMENT
Welcome to Hemlock Hill RV's award-winning Service Department! Located in the heart of Connecticut, we also serve our surrounding states, New York, Rhode Island, Massachusetts and all of New England. Our team of factory-trained technicians brings a wealth of experience, boasting over 50 years in the RV servicing industry. Many of us are avid campers ourselves, so we understand the importance of having a well-maintained and reliable RV. We take pride in delivering top-notch service, not only because it's our job but because we genuinely care about you and your RV service needs. Meet The HHRV Team
REQUEST A SERVICE APPOINTMENT
To schedule an appointment or if you have any questions, don't hesitate to call or text us at 860-621-8983. Or simply fill-out the online service appointment form.
Our Service Department operates within a modern, very large service area, equipped with state-of-the-art diagnostic tools worth over $100,000.00. With such advanced equipment at our disposal, we can efficiently diagnose and address almost any issue your RV might encounter. This commitment to excellence has earned us numerous customer service awards, and two of our leaders have been recognized among the Top 40 under 40 people to watch in the RV industry.
We cater to most makes and models of RVs, including motor homes, travel trailers, fifth wheels, toy haulers and destination trailers. In fact, our expertise extends beyond traditional RVs, as we have successfully serviced horse trailers, hot dog carts, pizza trucks, and snowmobile trailers. Whatever your RV-related needs may be, we're here to help. In fact, texting us with pictures or videos of the problem can be particularly helpful in diagnosing issues remotely.
CUSTOM RV INTERIOR SERVICE, REPAIR & REMODELING
At Hemlock Hill RV, we not only excel in general RV servicing but also provide specialized interior custom work, repairs, and remodeling services. If you want to enhance the interior of your RV, whether it's for maintenance, revitalization, or repairs, our dedicated team will bring your vision to life. Your satisfaction is our priority, and we won't rest until we've done our best to fix or improve your RV's interior.
SERVICE AVAILABLE EVEN IF YOU DIDN'T BUY FROM US!
Even if you didn't purchase your RV from us, you can still take advantage of our exceptional service. We are renowned as New England's premier RV service center and happily accommodate RVs purchased elsewhere. Please book your appointments in advance, as our service bays tend to fill up quickly due to the high demand for our services.
To schedule an appointment or if you have any questions, don't hesitate to call or text us at 860-621-8983. Hemlock Hill RV Service Department looks forward to serving you and ensuring your RV adventures are worry-free and enjoyable. Thank you for considering us for all your RV service needs!
Common RV Maintenance can include:
Regular Inspections: Conduct regular inspections of your towable RV, both inside and out. Check for any signs of damage, leaks, or wear and tear. Inspect the roof, seams, windows, and doors for potential issues. Ensure that the hitch, coupler, and safety chains are in good condition.
*****WE OFFER FREE ROOF INSPECTIONS*****
Wheel Bearings: The wheel bearings of your RV should be inspected and repacked with fresh grease periodically. This is typically recommended once a year or every 10,000 to 12,000 miles, but it's important to refer to the manufacturer's guidelines for your specific RV.

Tires: Check the tire condition, including tread depth and sidewall integrity, on a regular basis. Maintain the recommended tire pressure and be mindful of weight distribution to prevent uneven tire wear. Replace tires as needed based on wear or age considerations.

Brakes: If your RV is equipped with brakes, they should be inspected regularly. This includes checking the brake pads, rotors, drums, and brake fluid levels. The frequency of brake inspections may vary, but a general guideline is to have them checked at least once a year.

Propane System: If your RV has a propane system for appliances like the stove, refrigerator, or furnace, it should be inspected regularly. This includes checking for leaks, ensuring proper regulator operation, and testing the functionality of propane appliances. Consult the manufacturer's recommendations or your RV Dealer for specific maintenance intervals.

RV Operating Systems and Appliances: The systems and appliances in your towable RV, such as electrical, plumbing, heating, and air conditioning, should be inspected and serviced as per the manufacturer's guidelines. Regular maintenance ensures proper functionality and extends the lifespan of these components.
Always refer to your RV's owner manual for specific maintenance schedules and procedures tailored to your towable RV model. Additionally, consulting one of our certified RV technicians can provide professional guidance and ensure that your RV remains properly maintained.
"Great service. Great device techs. I have been there for service before and I never have to bring the unit back for the same problem. They always get it right the first time. I highly recommend Hemlock Hill for great courteous service."

- Jerry Bellemare


PROPANE SYSTEM SERVICE
Inspect LP System (including hard pipe & connections under trailer
Top off tanks (up to 14 gallons)
Adjust & check regulator operating pressure
Inspect tanks & confirm up-to-date codes
Inspect & secure tank hold downs
LUBE & SEAL SERVICE
Lubricate all moving parts, including:
Slide out mechanisms
Tongue & stabilizer jacks
Awning moving parts
Compartment & entry door locks
Lube slide out & compartment door seals
WINTERIZATION & DEWINTERIZATION
Drain fresh water system
Add RV Antifreeze to plumbing system
De-Winterize Plumbing
*Emptying of black & grey tank is the customer's responsibility
RV ROOF MAINTENANCE*
Check and advise of roof sealant condition
Wash with UV roof top protectant
Wash and scrub side rails & vinyl insert
Clean out rain gutters & debris
Wash slide roof top (if applicable)
*Does not include sealing, if roof sealing is needed an ESTIMATE will be given on condition of roof
SIDEWALL SEALANT INSPECTION*
Inspect & spot seal on exterior as needed:
Windows
Exterior Doors
Compartment Doors
Attachments
* Major sealing and roof not included.
BEARING REPACK*
Remove wheels & brake drums/hubs
Remove bearings & wheels bearing seals
Clean & wash parts
Replace grease seals
Inspect & adjust brakes
Clean all brake system moving parts
Inspect for worn or broken parts
Test & check brakes for proper operation
* Dual axle only. Additional fee applies for 3rd+ axle.
APPLIANCE STORAGE PREP
Check all major appliances
Clean out burner assemblies
MOUSE AWAY APPLICATION
Prevent mice from getting into your RV
Protect against other rodents
Deters animals from ever entering your RV

INCLUDES EVERYTHING LISTED BELOW
COMPLETE ROOF & SIDEWALL INSPECTION
Comply w/ MFG Warranty
Avoid Water Damage Sealant Breakdown
TIRE & SUSPENSION EVALUATION
Correct Track™ Alignment
Tread and Pressure Check
CLEAN & TEST MAJOR APPLIANCES
Fridge, Stove, Water Heater & HVAC systems
Clean and Service Burner Assemblies
Ensure Correct Voltage & Amp Draws
BATTERIES INSPECTION
Check Battery Fluid Level
Battery Terminal Cleaning
Inspect Terminals for Leaks
Complete Inspection of 12 Volt Charging System
EXTERIOR LIGHTS CHECK
Check Head & Brake Lights and Signal, Blinkers
Ensure All Lights Work and are Visibly Bright
Free Lights from Dirt and Corrosion

INCLUDES EVERYTHING IN THE BRONZE PACKAGE
BRAKE & WHEEL CARE
Complete Cleaning and Repacking of Wheel Bearings
Replacement of Grease Seals
Brake Inspection
Inspection of Breakaway Safety Switch
Perform Amp Draw on Brakes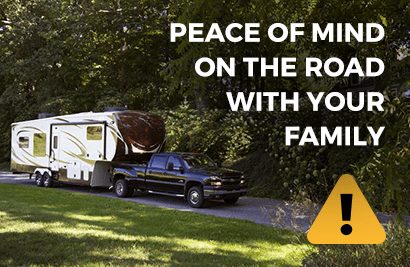 RVIA CERTIFIED TECHNICIANS
You can feel confident allowing our RVIA certified technicians diagnose and repair your RV.
VALUE
SAFETY
SECURITY
PROFESSIONALISM

INCLUDES EVERYTHING IN THE GOLD PACKAGE
EXTERIOR LUBRICATION
Locks and Latches
Entry Steps
Coupler, Awning Arms
Slide Out Mechanisms
Condition Slide Out Seals
All Awning Moving Parts
PROPANE SYSTEM TEST
LP Leak Down Check
Line and Tank Inspection
Regulator Lock Up test
GOLD WASH/ROOF TREATMENT
Apply Professional Grade Roof Cleaning Detergents
Clean Vents and Covers
Apply UV Blocking Roof Treatment