RV Service, RV Repair or RV Warranty work in Connecticut. Also serving MA, RI, & NY.
REQUEST A SERVICE APPOINTMENT
Our factory-trained technicians have a combined experience level of over 50 years servicing RVs. We are dedicated people who care about you and your RV service needs. We get because many of us are campers too! The service department has over 10,000 sq. ft. of modern service area, with the most up-to-date diagnostic equipment and over $100,000.00 worth of tools. We have won customer service awards year after year and have 2 leaders that have been recognized as the Top 40 under 40 people to watch, these are just a few of the features of Hemlock Hill RV's award-winning service department. We service all makes and models of motor homes, travel trailers, fifth wheels, toy haulers, and pop-ups. In fact, we have even serviced horse trailers, hot dog carts, pizza trucks and snowmobile trailers. Give us a try and we'll do our best to fix it! Texting us pictures of the problem is always helpful. Fill out a form to schedule an appointment or call or text us at 860-621-8983.
CUSTOM RV INTERIOR SERVICE, REPAIR & REMODELING
Hemlock Hill RV Service Department provides specialized interior custom work, repairs, and modifications. You want it? You need it? We can do it! Next time you are looking to have the interior of your RV worked on, maintained, revitalize or repaired, come to Hemlock Hill RV. We will do our best to fix it and/or improve it. You won't regret it!
SERVICE AVAILABLE EVEN IF YOU DIDN'T BUY FROM US!
We are known as New England's premier RV service center. We will happily service your RV, even if you've purchased it from someone else. Be sure to book appointments well in advanced as the service bays book up quickly. Thank you for your consideration.
"Great service. Great device techs. I have been there for service before and I never have to bring the unit back for the same problem. They always get it right the first time. I highly recommend Hemlock Hill for great courteous service."

- Jerry Bellemare


PROPANE SYSTEM SERVICE
Inspect LP System (including hard pipe & connections under trailer
Top off tanks (up to 14 gallons)
Adjust & check regulator operating pressure
Inspect tanks & confirm up-to-date codes
Inspect & secure tank hold downs
LUBE & SEAL SERVICE
Lubricate all moving parts, including:
Slide out mechanisms
Tongue & stabilizer jacks
Awning moving parts
Compartment & entry door locks
Lube slide out & compartment door seals
WINTERIZATION & DEWINTERIZATION
Drain fresh water system
Add RV Antifreeze to plumbing system
De-Winterize Plumbing
*Emptying of black & grey tank is the customer's responsibility
RV ROOF MAINTENANCE*
Check and advise of roof sealant condition
Wash with UV roof top protectant
Wash and scrub side rails & vinyl insert
Clean out rain gutters & debris
Wash slide roof top (if applicable)
*Does not include sealing, if roof sealing is needed an ESTIMATE will be given on condition of roof
SIDEWALL SEALANT INSPECTION*
Inspect & spot seal on exterior as needed:
Windows
Exterior Doors
Compartment Doors
Attachments
* Major sealing and roof not included.
BEARING REPACK*
Remove wheels & brake drums/hubs
Remove bearings & wheels bearing seals
Clean & wash parts
Replace grease seals
Inspect & adjust brakes
Clean all brake system moving parts
Inspect for worn or broken parts
Test & check brakes for proper operation
* Dual axle only. Additional fee applies for 3rd+ axle.
APPLIANCE STORAGE PREP
Check all major appliances
Clean out burner assemblies
MOUSE AWAY APPLICATION
Prevent mice from getting into your RV
Protect against other rodents
Deters animals from ever entering your RV

INCLUDES EVERYTHING LISTED BELOW
COMPLETE ROOF & SIDEWALL INSPECTION
Comply w/ MFG Warranty
Avoid Water Damage Sealant Breakdown
TIRE & SUSPENSION EVALUATION
Correct Track™ Alignment
Tread and Pressure Check
CLEAN & TEST MAJOR APPLIANCES
Fridge, Stove, Water Heater & HVAC systems
Clean and Service Burner Assemblies
Ensure Correct Voltage & Amp Draws
BATTERIES INSPECTION
Check Battery Fluid Level
Battery Terminal Cleaning
Inspect Terminals for Leaks
Complete Inspection of 12 Volt Charging System
EXTERIOR LIGHTS CHECK
Check Head & Brake Lights and Signal, Blinkers
Ensure All Lights Work and are Visibly Bright
Free Lights from Dirt and Corrosion

INCLUDES EVERYTHING IN THE BRONZE PACKAGE
BRAKE & WHEEL CARE
Complete Cleaning and Repacking of Wheel Bearings
Replacement of Grease Seals
Brake Inspection
Inspection of Breakaway Safety Switch
Perform Amp Draw on Brakes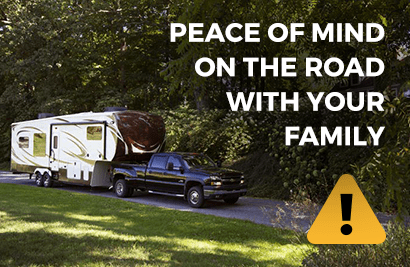 RVIA CERTIFIED TECHNICIANS
You can feel confident allowing our RVIA certified technicians diagnose and repair your RV.
VALUE
SAFETY
SECURITY
PROFESSIONALISM


INCLUDES EVERYTHING IN THE GOLD PACKAGE
EXTERIOR LUBRICATION
Locks and Latches
Entry Steps
Coupler, Awning Arms
Slide Out Mechanisms
Condition Slide Out Seals
All Awning Moving Parts
PROPANE SYSTEM TEST
LP Leak Down Check
Line and Tank Inspection
Regulator Lock Up test
GOLD WASH/ROOF TREATMENT
Apply Professional Grade Roof Cleaning Detergents
Clean Vents and Covers
Apply UV Blocking Roof Treatment